Skip to content
Static VS Digital signage: The truth that marketers lie about
One of the crucial decisions a business makes by either choosing digital signage or more traditional sign solutions is to find that magic solution in improving customer experience and provoking the emotional response.
To put in more simply, businesses want signage which meets the aesthetics of their brand and style.
Static signage has evolved from handprint graphics and proved its worth in the past decades. However, a huge number of companies tend to go with digital signage solutions - the evolutionary trend, which pushed past the boundaries of the static signage.
Having said that, here are a bunch of pre-selected, well-versed what's in and what's out of using digital and static signage and what will eventually work for YOUR Company.
Static signage
Static sign, the backbone of Outdoor and Indoor signage, has more or less two functions: to inform and decorate.
Static Signage as a means of messaging and information is widely known as out of home advertising (OOH). Traditional OOH advertising signage includes – Custom Signs for Building exterior and interior branding, vehicle – Fleet Graphics, Billboards, Banners, Street furniture, Stand signs.
Traditional Signage also has the "beauty" side – to decorate the interior... and why not Exterior… with Welcome signs, Canvas wall clusters, Decorative stands, Vinyl letterings, stickers and etc.
So, as you see static signage has a wide spectrum of signs still to offer, that's why there is no need to read statistics to understand why some still prefer Traditional signs in the modern – digital world.
The Advantage of the Static Signage foremost is its ability to create the feeling of consistency and elegancy.
You shouldn't underestimate the importance of the traditional signage, but remember that digital display is just another type of a sign, which complements the Static signage solutions.
Digital Signage
Digital signage incorporates any size electronic display, which informs and advertises through text, streaming media, video walls, animation and audio.
The advantage of the digital signage or digital out of Home (DOOH) advertisement is that content can be changed more easily, and deliver specific messages to the target audience at any times.
But, what is exactly a digital signage?
Vendors of Digital Signage characterize it as a method of advertising, which generates awareness and general marketing. For some, digital signage is just the bigger size TVs located in public spaces, retail stores and corporate for wayfinding, exhibiting and, of course, marketing.
Well, after all, it's an ideal solution for the companies who compete to maintain their tech-advanced or tech-savvy status.
Another key thing to remember, Digital signage is not yet fully shaped to its potential, it's expensive and has some downsides.
Static VS Digital Signage
Cost
✅Pros
Static
Cheap Initial Cost: Depending on the sign project, Static signs is cheaper to obtain; half the cost of digital signs.
Little to No Maintenance: Once the sign is fabricated and installed, it can serve its purpose for years to come. If any repair is ever needed, Front Signs provides repair and replacement services to our partners and potential Customers.
Digital
Ad campaigns: Digital signage is cost-effective and with high ROI when you "rent" the display and use it for your advertising campaigns.
❎Cons
Static
Costly in the long run: Printed Signage is used one at a time at a specific location. As the business changes the services, adds or reduces a certain product line, banners must be accordingly changed.
However, this doesn't refer to certain types of traditional signage (A-frame and display stands) with changeable displays.
Digital
Initial huge and "Minimal" Long-term Costs: The initial cost of digital signs is higher than most static sign options. Moreover, the additional article marketing software and press playing devices need to be purchased.
Coupled with the costs like compensating to the staff, repair and maintenance of the signage should also be considered.
Conclusion: Digital Signage (DS), depending on the size and location costs from $1200 to $10.000 monthly (this is a big chunk from the budget!). The investment makes business sense if you plan to display several messages at a time.
You should also consider the fact, that the more DS gains popularity, the higher is the cost of the advertising units.
As for Print signage, large scale signage implementation is inconceivable (though definitely less costly).
Both require time and money to design and operate, print or animate, distribute or setup. And extra ongoing bucks for renting, support and/or maintenance.
Environment
❎Cons
Static
Energy use: Printing and fabrication of a certain signage takes an incredible amount of energy. Also, delivery, distribution and disposal play a significant role in the eco-system.
Chemicals: For printing and manufacturing, chemicals, solvents and similar toxic substances damage the environment.
Short to mid-term shelf life: larger format prints have a short or mid-term usage, and all the waste that is generated monthly from the ad campaigns has serious substantial implications.
Waste: banners, vinyl adhesives, inks and solvents together with the increased greenhouse gas emissions, incineration and release of methane gas coupled with transportation logistics are the basic environmental issues to consider.
Digital
Energy use: While traditional requires energy for printing and erecting, Digital consumes energy and highly contributing to carbon footprint. Touch screen devices require even more energy for touch-sensitive information process.
Mid-term shelf life: everybody speaks of the multi-location and multi-messaging functions of the Digital, but nobody considers the fact that these displays also have mid-term lifespan. To suffice the modern needs, the businesses need to obtain the latest version of a display in the sake of a higher HD and video quality.     
Waste: The purchase after the bigger and better screens leads to a solid quantity of waste.
✅Pros
Static
Eco-friendly materials: For Custom sign fabrication usually sign companies use materials such as Aluminum, Acrylic, PVC, LED lights are used. These materials are durable and have a long lifespan, meaning avoid the landfill for a time being. Good news is that Vinyl banner and paper posters along side with all these materials are RECYCLABLE.
Digital
Eco-friendly system: Digital signage eliminates the need to print new messaging as it can be easily updated and changed based on the campaign. Digital also uses LED screens (alternative to LCD) with automatic brighness control, which balances energy with the level of ambient light.
Conclusion: Sustainable initiatives are top priority, and waste is a common environmental issue.
Both digital and static harms the eco system in their own way. To reduce the negative impact, businesses must recycle paper and plastic to minimize the infrastructure waste output.
Expertise
✅Pros
Static
Rich history: You might know this proverb: "A good wine needs no bush". Here, surprisingly, bush refers to a signboard – commercial sign display showing the direction to a tavern in an old Rome. Signboards were also used since prehistorical times and even in the digital era, they have still something to offer.
Integration: Traditional signage is integrated part of our daily life. Small businesses to big corporations establish identity and business presence with these means of traditional signage. Being here for many decades, makes the static signage be the natural choice for branding and decorations.
Digital
New platform: Digital signage offers new tools for brand advertising. In certain locations and targeted audience it has proven advantages over traditional methods.
With the digital screen and pop-up colors, it is more effective in sending the right messaging to the target audience.
❎Cons
Digital
Need of expertise: In case of digital signage either you need to have your team, which helps to develop your content marketing and operate the DS software OR hire a digital signage company, which will handle all the hassle , operate and maintain the hardware.
Conclusion: Traditional Signage, with an extensive expertise on how to enhance customers and draw attention, helps to identify a place. It creates brand voice and instant recognition.
Digital Signage, is comparably a new trend, and as everything new – it attracts more attention towards itself.
Space
✅Pros
Static
Sustainability: Static signage advertising is ideal for local marketing. You can simply reach your target audience.
Complementation: Interior and Exterior signage complement and naturally blends into the existing space and architectural elements.
Static Signage can be customized to any size and shape, design and style to incorporate and provide a unique look and attraction.
Digital
Unlimited space: One display, unlimited advertising methods. Advanced DS software gives space for multiple messaging and video content. Thereafter, you can even run an Ad campaign whatever time and day you wish and change only a moment away.
Connectivity: Outdoor DS hardware, which can connect to the internet, provides weather forecast, social media and other relevant news to help create consumer engagement.
❎Cons
Static
Physical item: Static Traditional Content is fixed and can only showcase single Ad per location. Though it creates brand trust, nevertheless, affects the message communication. Also, it needs to be changed in case of a misprint or outdated information.
Digital
Lack of understanding: Lack of knowledge and clear purpose affects the effectiveness of a Digital Signage Ad campaign. Doubled with poor content, wrong location and screen the damage can be beyond repair.
Conclusion: Savvy companies embark on the digital signage without a clear vision. Then again, Digital is highly beneficial if used professionally.
Notably, Traditional Signage is still great for local audience and branding.
With traditional signage, Content eventually becomes dated. This leads to a new campaign and make-repeat-process for another sign.
If you want to advertise special product line or a service for a limited period of time, digital signage is especially useful in this situation.
Wow effect
✅Pros
Static
Visual Appeal: Outdoor signage has been an effective marketing tool for decades. It became a whole science to track Customer behavior and thus create methodology. Color philosophy, persuasive communication is what creates at attractive Billboard ad, Banner, etc.
Purpose: signage has an overt implementations.
Static signs are used to:
Give directions – exit signs, road signs.
Control traffic – stop signs.
Warn about a danger – wet floor signs.
Office caution sign with a specific performing message
Directional Signs – Pylon signs.
Advertising – A-frame signs, stand signs.
Exterior and interior Branding – 3D letter signs.
Decoration – Acrylic standoff prints, wooden wall art.
Digital
Attracts Attention Easily: Digital screen are ideal for attracting customer's attention and influence their purchasing decisions. With the bright and motion features, it warrant instant attention
Human-centric: Digital signage creates one-on-one interaction environment for the consumers. With its relevant aimed content it creates engaging experience for the target audience.
Creates Urgency feel: digital signage advertises promotion, highly effective for point of purchase sales
❎Cons
Static
Not as Eye-catching (This do NOT refer to incredibly well-designed and complicated traditional signage): In the locations where Digital signage is the clear dominant and the preferred Advertising means, Traditional options can be not as eye-catchy(but you never know, one gets tired of too much actions). As Traditional means are very much part of our daily life, it needs to have an outstanding offer or design to cast a light on DS software.
Digital 
Too Much Activity: Sometimes it gets really hard to follow or not lose the interest in the DS ads. What's more, with those Digital changing screens, one can find it difficult to pay attention. Not speaking of, that average person spends most of his "free" time eyes glued to the mobile screen. In view of this, changeable ads might not even get the attention of the target audience at all.
Possible Tech Errors: Well, this might happen once in a millennia, but it will bring lots of inconvenience and costly for the Ad campaign and for repairs.
Missed Content: The messaging on the Digital billboard is forever changing.
So, there is a risk that your audience 1) won't be able to read the content as its fast changing 2) was not looking when your message was displayed.
Its total opposite with Traditional Billboards, where you don't have to share the display with any other company and can display the ad assigned period of time and exclusively your message.
Oops… did I let a cat out of the bag? ????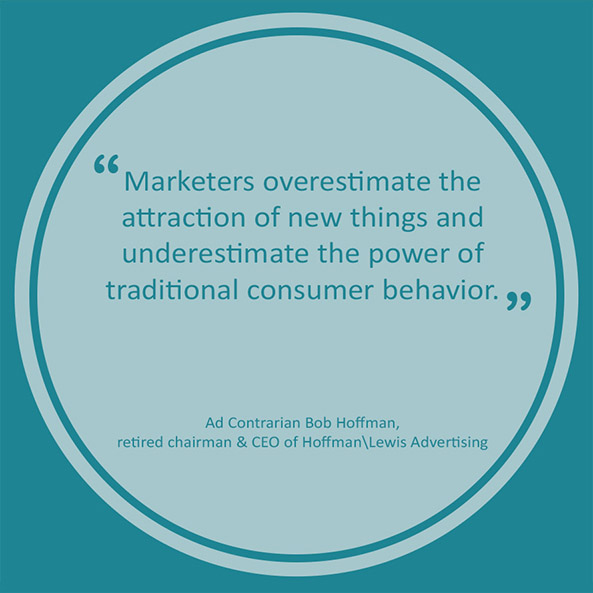 To give a full illustration on Digital and traditional Signage, consider these factors as well.
Return on investment (ROI)
Digital Signage: taking into account the initial investments, repair and maintenance costs, advertising expenditure and missed content, it's really hard to calculate the ROI for DS.
Traditional signage: Creates a neat and comfortable environment with extensive number of Interior and Exterior signage solutions.
Ask yourself these questions before purchasing a digital screen hardware:
How many screens you need?
How long is your Ad campaign?
How effective is content strategy?
How much money is invested?
Don't just buy the screens, mount them or hang and lose time thinking what to do with them!
Conclusion
Should the businesses invest in digital or static signage?
Both Static and Digital signage have their roles in the Advertisement world.
If you want to have a web connectivity, go for Digital Signage.
If you want to have an elegant and solid business look, go for Traditional signage.
While this being the usual case, some companies succeeded in mixing these two mediums.
Traditional and digital extend their presence in the commercial landscape, both venture customers inside your establishment.
Transform your advertising space with marketing tools with a traditional styles.
MAKE THE CUT - Outnumber your extensive reach, do precise audience targeting and measurements and by investing in Digital and Traditional Signage companies with experience.
P.S. It's not fair for the end-users, one likes to watch a video, one likes to read a blogpost just like you. 😉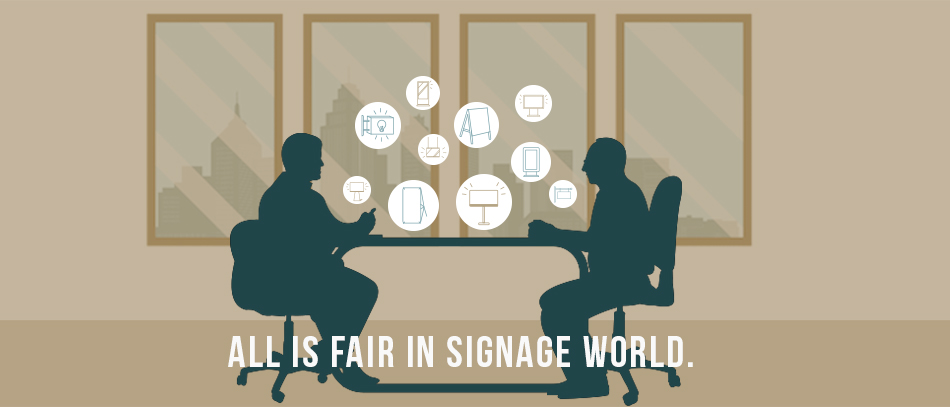 Relationships are built on trust. Trust drives revenue.    -Andrew Davis