Skip to content
Here are the most effective, visual ways of making customers choose YOU over numerous other competing beauty salons:
Outdoor design
Every beauty salon owner knows their salon needs a name sign. Sometimes that's the ONE AND ONLY design decor they use.
We suggest you push your visual marketing efforts even further with…
Window Decals
If your salon has a glass door or/and big windows, you just don't have the right to let them remain empty. The options are many:
Quote (find the best quotes at the end)
Service list
Working hours
Your name, logo
Pictograms, like your working tools, etc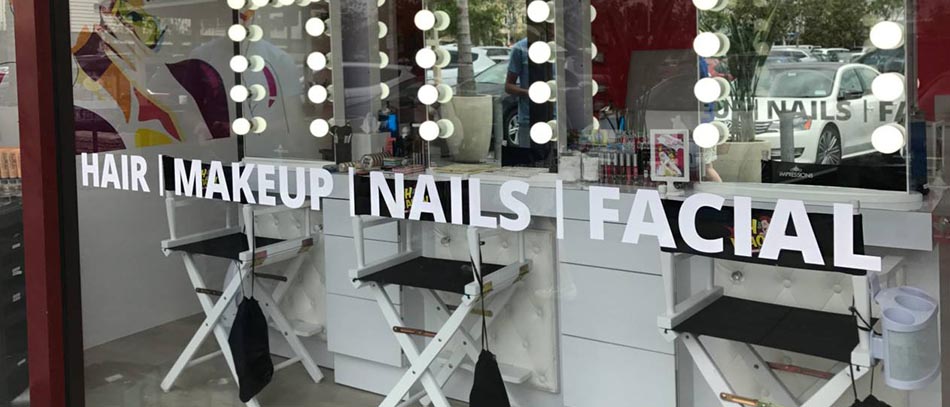 Chalkboards
Chalkboards are the thing that will strike the eye of customers. For marketing purposes, sidewalk (chalkboard) signs work better than the signs mounted on the front part of the salon.
And the reason for that is pretty simple:
It's easier to notice a chalkboard sign right in front of you than a business sign above your head.
With well-defined services and contact information on them, you will soon get traffic. That's because people love to go to places they know and seeing the sign several times makes them remember the name.
They will definitely remember you once they need a salon!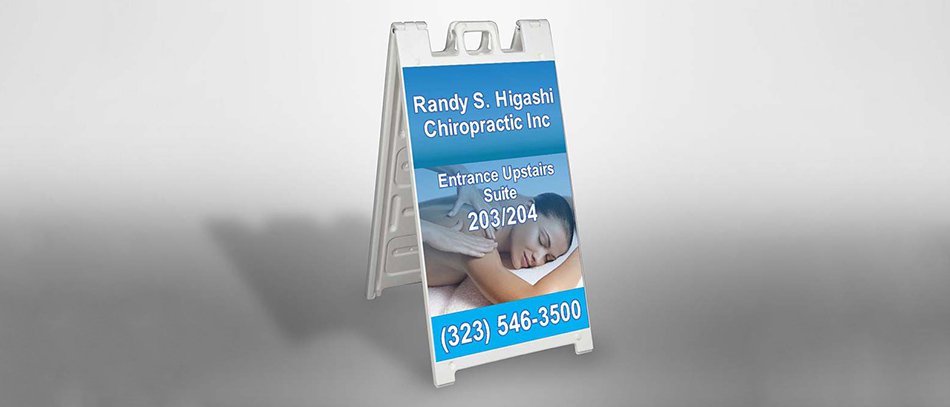 Banner stands
If chalkboards seem small to you, Banner stands will not.
Your full package of services with contact information featured on it can work wonders for your salon.
BESIDES, later you can take this banner to trade-shows, expos, conferences with you. Perfect, right?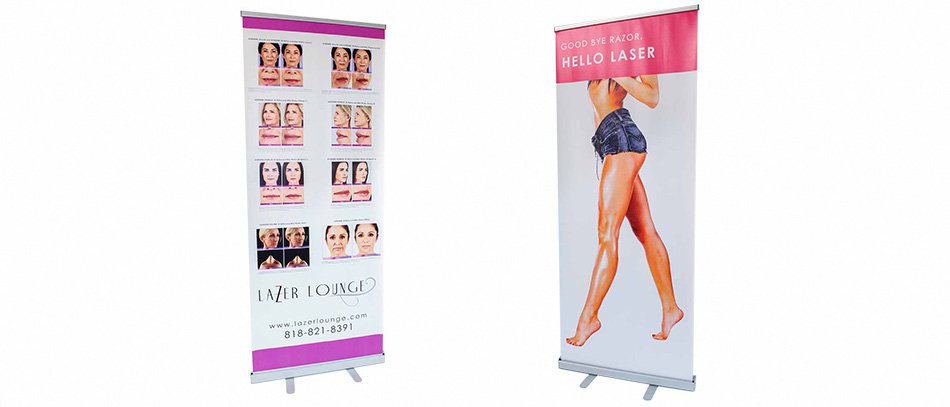 Indoor design
Wall decals
Of course, your certificates are a very important wall decor, but not enough. Well, enough for customer trust but not aesthetics and pleasant environment.
Covering the whole wall with a stylish image (like in the attached picture), flower decals or featuring quotes about fashion or beauty with vinyl lettering will be the thing your salon was missing.
It creates a specific mood everyone wants to feel in a beauty bar or spa center.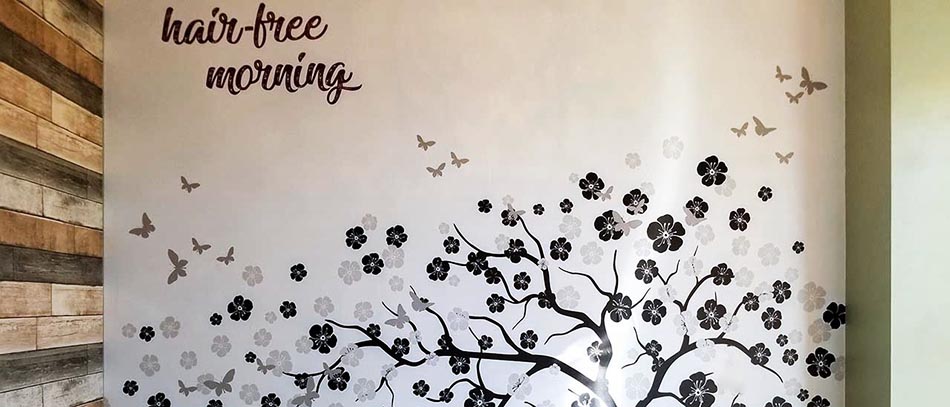 Reception
As the clothing makes the first impression at interviews, so does the lobby for salons.
"Dress" your salon reception tastefully to pass the interview.
The most common type is featuring the salon name behind the reception desk.
It can be done by
Channel letters
3D letters
Wall decals
Choose one according to your salon design.
Reception gives a full image of the salon service quality so this is the place you shouldn't economize.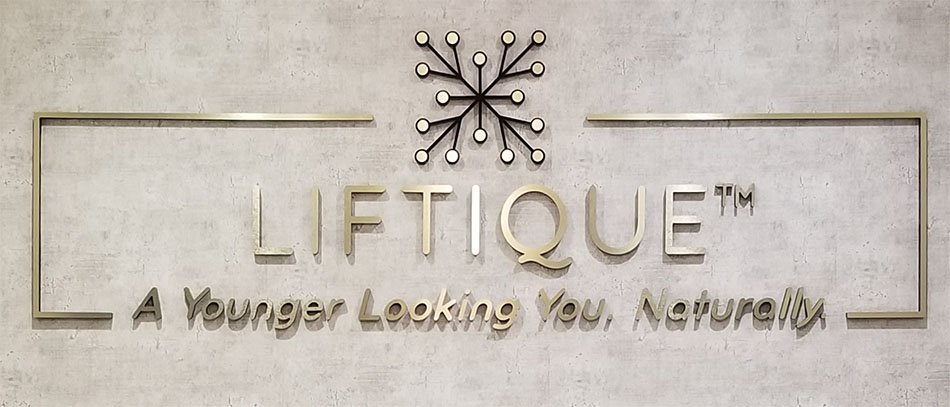 Floor Decals
Not very popular, still highly effective these floor graphics are able to bring a whole traffic to your salon if applied in the busy part of the street. I leave creativity to you, but still, some ideas that I don't want to keep for myself only ( well, only because I don't have my own beauty salon).
Come in, we are awesome
Hello, is it me you're looking for?
Someone is waiting for you inside
Or the classic option – a beauty salon icon with an arrow!
Print one of those highly effective motivating phrases on a round-shaped decal and apply to the ground in front of your salon (smooth surface is highly welcomed) and wait for the traffic to come.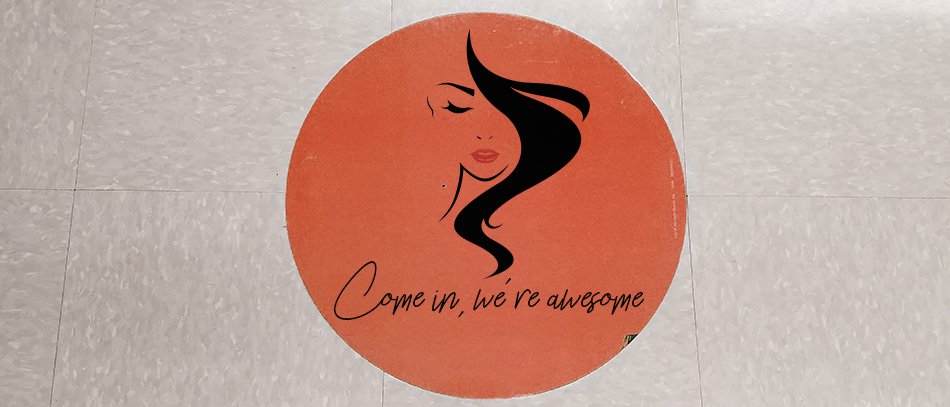 Open/Close
Customized to your salon design, open/closed signs are a tiny pleasant detail, that will complete the stylish look of your salon.
They can carry a warm welcoming phrase, your logo, working hours…
The materials can be PVC, aluminum….. well you don't have to care about those details, just get in touch with our specialists for proper advice.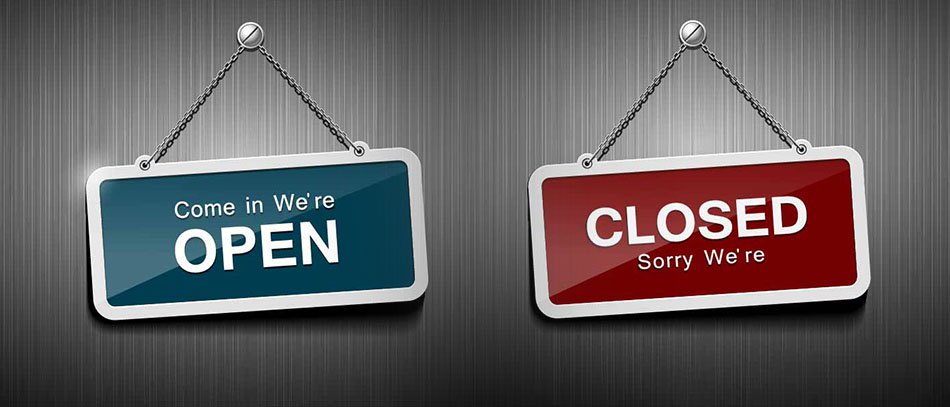 Shelves
Tired of traditional flat shelves?
We've got something for you. ⬇(attention to the picture).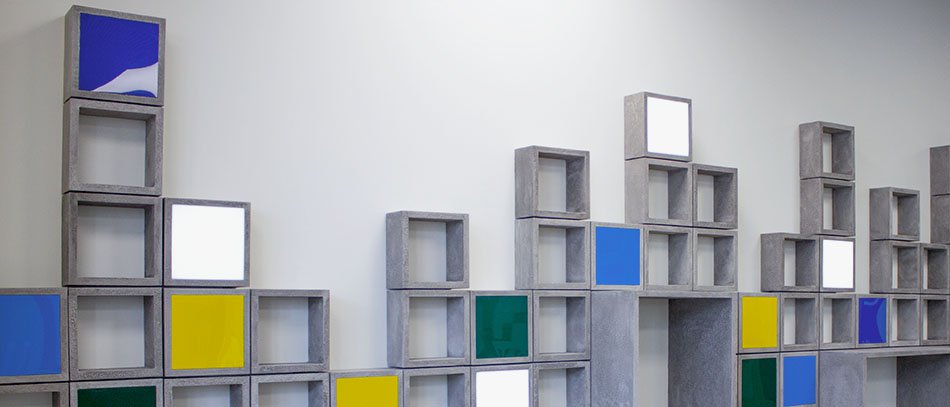 Initially made for one of our partners as an interior design decor, we thought: Why not suggest them as a shelf idea for other partners?
So here we are with our creative colorful shelves. Put your Styling Products and Tools on these shelves and  every time enjoy taking something from there.
At the end, check out  these Really Creative quotes on beauty salons and consider them as one of your future sign writing.
Improve your selfies, see a stylist
Invest in your hair, you wear it every day
It's your hair, do whatever you want (going against the stereotypes)
Come in, we are awesome
Your hair is 90% of your selfie
Eyebrows – one thing you can get into shape without exercising
Hello, is it me you're looking for ?
Life is more beautiful, when you meet the right hairdresser
Better late, than ugly
Wall decor
Canvas, aluminum, acrylic, PVC, the options are so many….
Abstract pictures, illustrations, your favorite photo from fashion industry and what not printed on these materials: isn't this a good decor?
But wait:
I've got something else for you: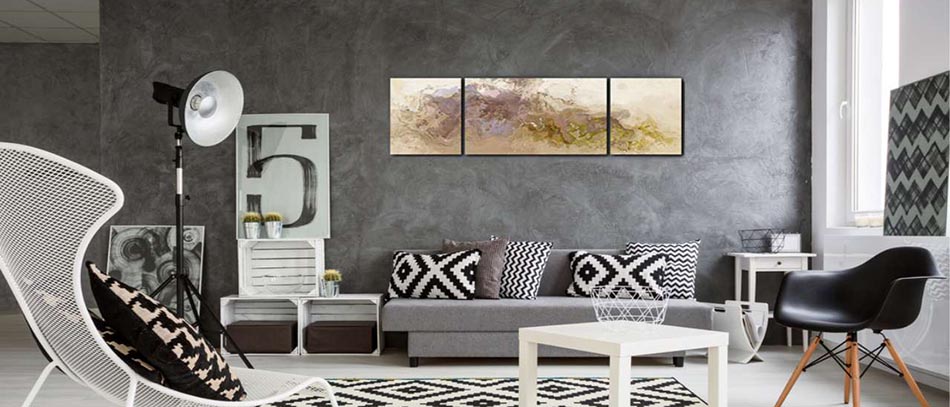 A NEW TREND – WALL CLUSTERS as the next step to decorating your salon. These are split parts of a whole picture mounted next to each other on a wall.
A great way to show your modern attitude to not only decoration trends but also the techniques used in the services, I think.